Upcoming Events August 16-20
Posted by Chris Connors on Wednesday, August 16, 2017 at 1:05 PM
By Chris Connors / August 16, 2017
Comment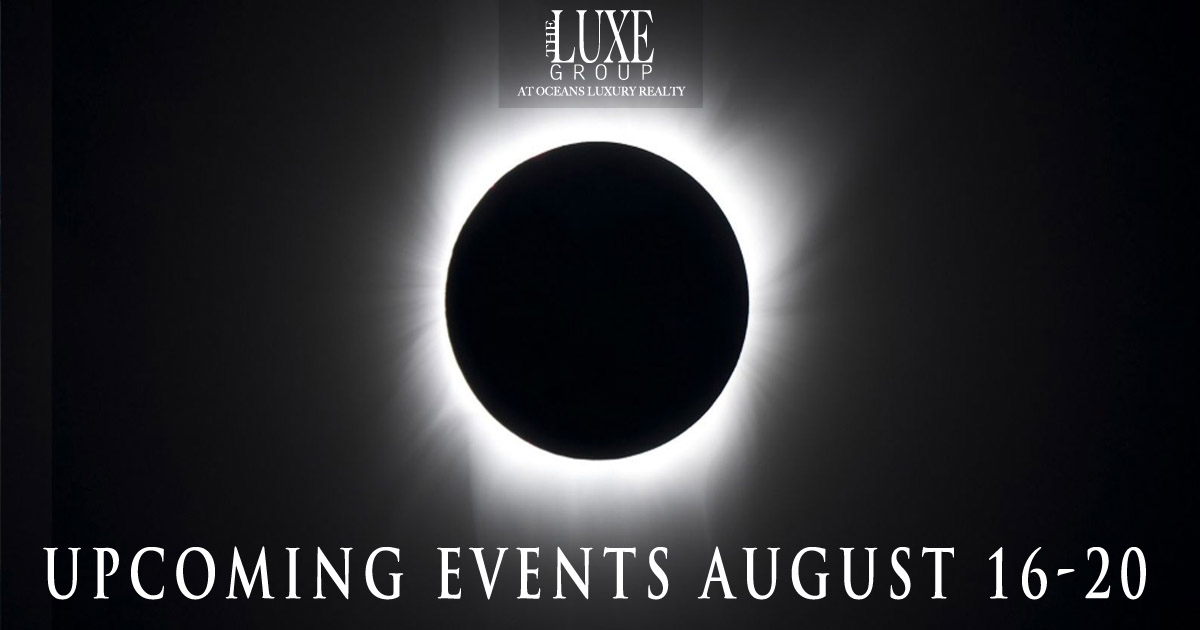 Looking for something fun to do this week? Upcoming Events, August 16-20, 2017:
Azure Wine Dinner
Wednesday, August 16, 2017, 6:30 PM
The Shores Resort and Spa: 2637 S Atlantic Avenue
Azure restaurant at The Shores Resort & Spa will host their August Wine Dinner, including a multi-course meal with wine California pairings from Truchard Vinyards Chardonnay 2015 to Frog's Leap La Grenouille Rougante 2016. Tickets are $75 each. More info: http://www.shoresresort.com/dining
Preparing for the Great American Eclipse of 2017
Thursday, August 17, 2017, 4:00 PM
Museum of Arts and Sciences: 352 S Nova Road
Visit the Daytona Beach Museum of Arts and Sciences planetarium for this in-depth eclipse education event. Learn the history of eclipse viewing, what causes an eclipse, safe viewing techniques and see the path of the 2017 eclipse. Admission is free for MOAS members, or $5.00 Adults, $3.00 Children under 12. More info: http://www.moas.org/Special-Planetarium-Show--Preparing-for-the-Great-American-Eclipse-of-2017-7-85.html
Summer Concert Series: The Ultimate Aldean, a Jason Aldean Tribute Show
Friday, August 18, 2017, 7:00 PM
Daytona Beach Bandshell: 250 N Atlantic Avenue
Enjoy the latest installment in the 9th Annual Summer Concert Series at the Daytona Beach Bandshell! The Ultimate Aldean free concert attracted more than 5,000 attendees in 2016, so plan to arrive early if you want to beat the crowd! More info: http://www.daytonabandshell.com/
8th Annual Surf Social Fundraiser
Saturday, August 19, 2017, 5:30 PM-8:00 PM
Halifax Historical Society Museum: 522 S Beach Street
This Hawaiian-themed fundraising event hosted by the Halifax Historical Society will include a viewing of Stylemasters 2: a surf film documenting single-fin surfing on Oahu's North Shore. Tickets are $20 for non-members, and advance reservations are highly recommended. More info: http://halifaxhistorical.org/index.cfm
Best of the Best Wedpros Wedding Show
Sunday, August 20th, 1:00PM-3:30 PM
Daytona Beach Resort: 2700 N Atlantic Avenue
This all things bridal expo will feature wedding professionals from across Volusia County, including reception halls, photographers, florists, wedding planners, videographers, bridal shops and more! Prize drawings and giveaways will occur throughout the event. Reserve free tickets at www.eventbrite.com.  
Contact us today for more information about Daytona Beach Real Estate (386) 299-4043.