Upcoming Events Labor Day Weekend
Posted by Chris Connors on Thursday, August 31, 2017 at 2:43 PM
By Chris Connors / August 31, 2017
Comment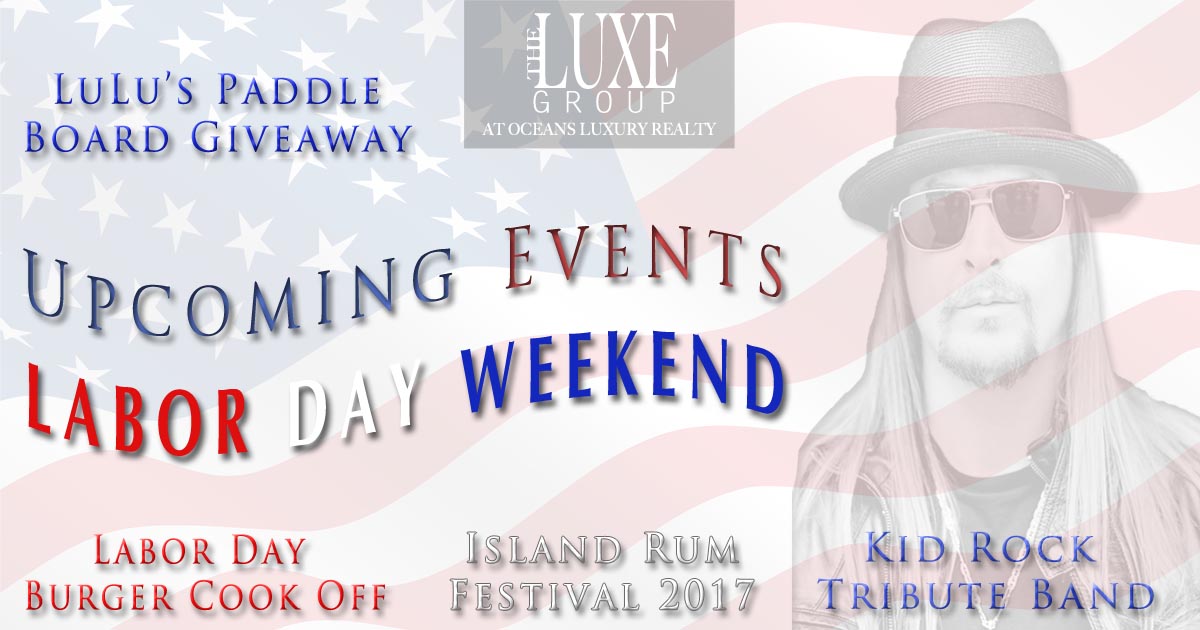 Looking for something fun to do this Labor Day weekend? The Volusia area has a lot to choose from whether you are looking for a great outing with the kids or for events geared toward adults. Here is a list of some unique events coming up!
Summer Concert Series: Kid Rock Tribute
Friday, September 1, 2017, 7:00 PM
Daytona Beach Bandshell
250 N Atlantic Avenue
Enjoy the latest installment in the 9th Annual Summer Concert Series at the Daytona Beach Bandshell! A large crowd is expected this weekend, so plan to arrive early if you want to get a great seat! Free admission. More info: http://www.daytonabandshell.com/
Labor Day Burger Cook Off
Friday, September 1, 2017, 6:00 PM-8:00 PM
Veteran's Park
1000 City Center Circle, Port Orange
This family-friendly event features live music, bounce houses, yard games, a craft beer tasting and a burger cook off to crown the 2017 City of Port Orange Burger Champion! Free admission and free burger & drink while supplies last. More info: https://www.port-orange.org/Calendar.aspx?EID=206
Island Rum Festival
Saturday, September 2, 2017, 7:00 PM-12:00 AM
Main Street, Daytona Beach
Hosted by the local firm of Politis & Matovina, The Island Rum Festival has been a popular end-of-summer celebration since 2005. This year, attendees will enjoy this pirate-themed event with live music along Main Street, a Pirate Village, the Renegade Street Performers live pirate-performances, and creative rum concoctions served by our local pubs. Don't miss the Pirate Parade at 7:00!
Zeno's Labor Day & Ice Cream Creation Event
Saturday, September 2 & Sunday September 3, 2017, 10:00 AM-9:00 PM
Zeno's Boardwalk Sweet Shop—Factory Location
2400 S Ridgewood Avenue (Sunshine Park Mall), South Daytona
Visit Zeno's factory location on Saturday for a Labor Day buy one scoop get one free event! Get an inside look at how the "World's Most Famous Taffy" is created, and enter to win 5 pounds of free taffy by submitting an idea for a new ice cream flavor. Details: https://www.worldsmostfamoustaffy.com/retail-locations/
Backyard BBQ Festival
Saturday, September 2 & Sunday, September 3, 12:00PM
Bass Pro Shops Daytona
1880 Checkered Flag Lane, Daytona Beach
Free crafts, hot dogs, face painting, giveaways, and prizes for Backyard Duck Pond and Backyard Fishing Challenge winners. Free admission.
Labor Day Paddle Board Raffle
Monday, September 4, 5:00PM-8:00 PM
LuLu's Oceanside Grill
30 S Atlantic Avenue, Ormond Beach
LuLu's Oceanside Grill will host this Labor Day event to benefit Salty Family Services, an organization dedicated to helping local children and families. Win a free paddleboard and accessories valued at more than $1,000, courtesy of Granada Surf Shop. Live music, seafood boil, paddleboard raffle at 7:00 PM.  
Contact us today for more information about Daytona Beach Real Estate (386) 299-4043.